The internet has long stopped being a global phenomenon and is now a part of our everyday lives. There are 4.72 billion global internet users that mean 60% of the total world's population has access to the internet as of April 2021. An average internet user spends almost 7 hours per day on the internet: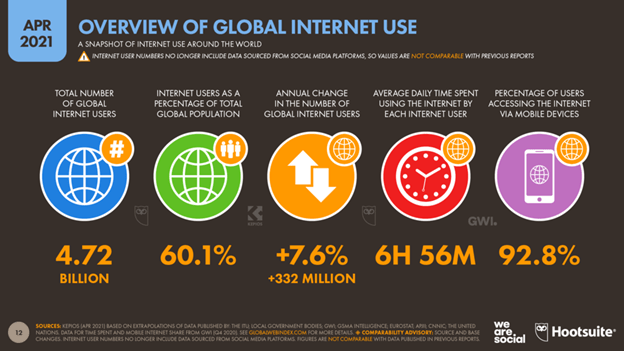 Even though the population has been gradually adopting the internet, small businesses have not. Recent research shows that 28% of small businesses don't have a website while only 44% of them plan to create one in 2021.
A website connects you with potential customers who use the internet to find your business. As much as 93% of online experiences start with a search engine. Not having a website means you don't have any presence on the internet and search engines. Almost 70-80% of people research a business online before making a purchase. You potentially lose 80% of customers in the absence of a website:

Businesses with a website have higher average revenue in general, higher customer count, and better lead generation. If this book was written 5 years ago, the question would have been: Why should you have a website? Nowadays, it's: Why do you NEED to have a website?
Let's find out…
1. Website and Success
Having a website is the first, very important step towards taking your business online. But the big question is: WHY?
Why do you need a website for your business even when you are doing fine without it? Why can't you go without it? And what difference would it make to have a website?
There are several reasons (and benefits) to have a website for your business:
1. Credibility
This can't be stressed enough.
Having a website gives your business an additional degree of credibility you'd otherwise have to prove in other ways. Research shows that 65% of people see online search as the most trusted and credible source of information about businesses.
If your potential customers don't find any presence of your business online, they're least likely to become customers.
Importantly, having a website adds an additional level of professionalism and legitimacy to your company. And this is how a website makes your business more credible. As much as 75% of customers make a judgment about a business based on its website: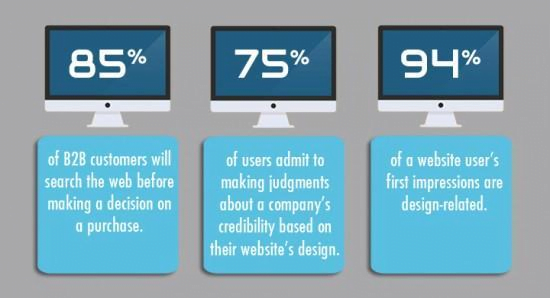 You don't just need a website for your business, but you need a well-designed and decent-looking website to boost business credibility.
2. 24/7 Global Availability
Your website has no office timings. It keeps your business open 24/7, 365 days a year. Anyone from any part of the world can visit your website. There are ZERO barriers.
You can use your website to sell online or you can simply use it as a communication channel. It all comes down to your preferences. Use your website the way you like to promote your business online and connect with your target audience.
The best part: Your website stays online 24/7. This isn't the case with your physical business. For example, if you have an office, you can't keep it open 24/7. And when your office isn't open, you lose potential customers.
The website stays live forever and makes your business accessible to ideal customers irrespective of date and time.
3. Marketing Channel
Website is a marketing channel in itself that connects you to digital marketing. Any online marketing campaign requires you to have a website. If you don't own a website, you won't be able to run PPC ads, rank in search engines, have any landing pages, and so on: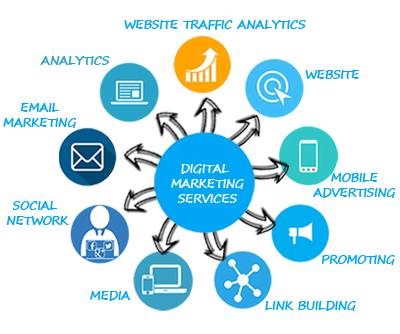 Your website is a complete marketing channel for your small business. It lets you showcase your products to your target audience when used appropriately with appropriate digital marketing methods, such as Google Ads, Facebook Ads, search engine optimization, content marketing, and several others.
One of the key advantages over the traditional methods of marketing is that everything is measurable. This means that if you invest in digital marketing, you'll always know where and how much of your money is spent, what the results are, and therefore, the bottom line of your marketing efforts.
Precise measurability of digital marketing also makes identifying and fixing problems in the marketing funnel a rather easy job, something that you can't do for traditional marketing.
4. Cost-Effective
If you are a small business owner, especially one that has recently started out, you may think that you can't really afford a professional website. If I'm being completely honest, you can't afford NOT to have one.
Even though the cost of website design varies, depending on the needs, amount of work, and skill level necessary, a professional website is worth the money in the long run, especially if developed on a proper platform such as WordPress (more on it later).
It reduces the number of work hours necessary to design a website, saving you money directly and indirectly through significantly reducing update and maintenance costs in the long run.
The long-term sensibility of investing in a website is especially apparent when marketing is factored in the equation. Traditional means of marketing (newspaper ads, flyers, commercials, etc.) are both less effective and more expensive than digital marketing solutions: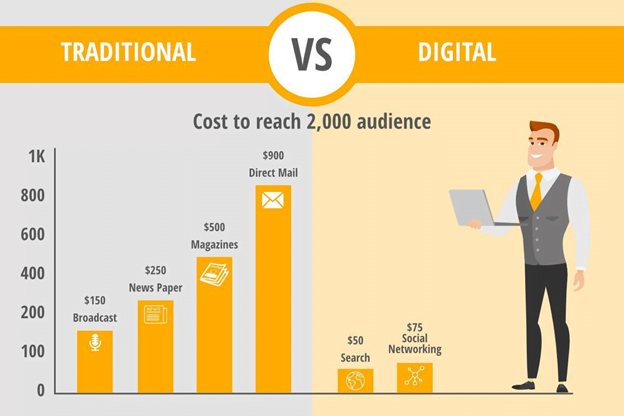 The price of advertising online is much more affordable and gives better results, compared to the traditional methods, making a website a very efficient tool for increasing revenue.
5. Lead Generation
Generating leads is far easier and less expensive when you have a website. You can generate 3x more leads for every dollar spent on digital marketing: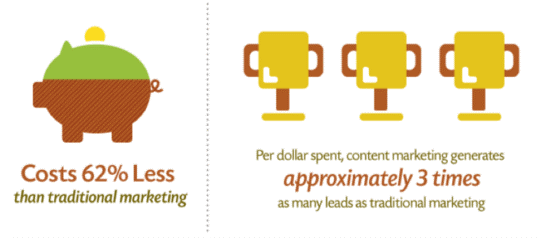 Instead of handing and collecting information the old-fashioned way, now all website visitors have to do is type in their email address in the small box on the website.
And there, another potential customer: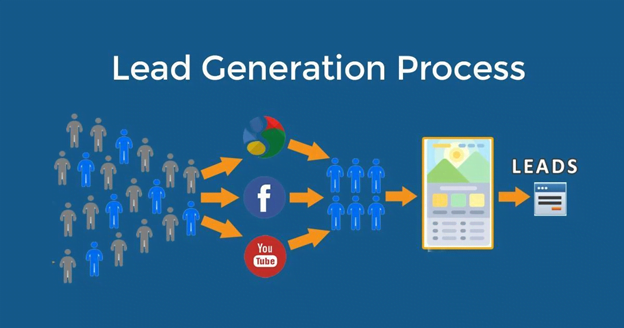 Not to mention, this lead generation process is fully automated. You just have to set it up once, and it will run without any supervision.
The best part: The data you collect via your website about your ideal customers is priceless.
2. Conversion and You
Understanding the conversion rate is the first thing you need to do after setting up your website.
The conversion rate or conversion is the percentage of visitors on your website that complete a desired action. The action (or goal) can vary and range from visitors leaving their phone number or email address to making a purchase: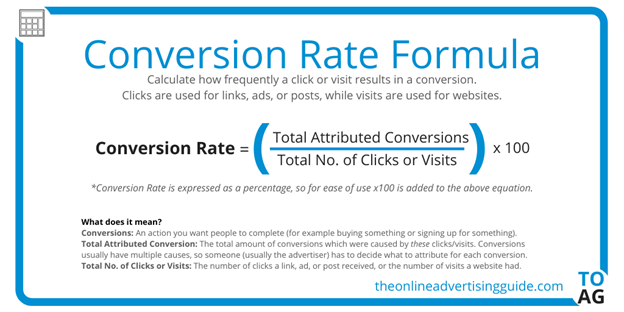 Here is an example of a conversion process: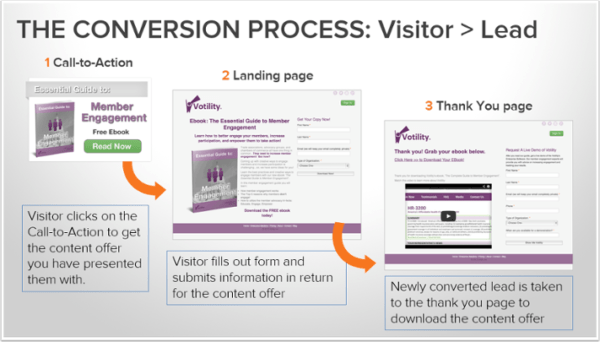 The higher the conversion rate of your website, the better.
With a 2% conversion rate, your website converts 2 out of 100 visitors, and with a conversion rate of 5%, your website converts 5 out of 100 visitors.
So, you need to make sure that visitors convert when they visit your website instead of abandoning your website without taking any action.
There is a whole science behind what increases conversion and what decreases it. A high conversion rate is indicative of a successful marketing campaign and web design.
Conversion rates vary wildly by industry and business model. The average conversion rate of a website is 2.35%. If you increase it to 5%, it is awesome: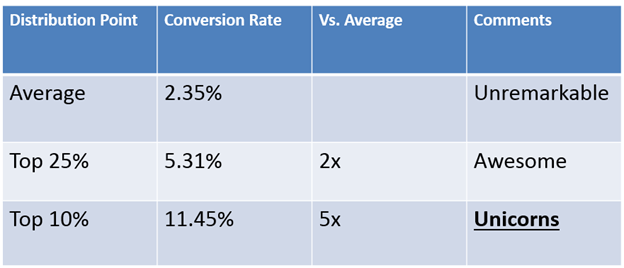 Increasing your conversion rate means you aren't generating more leads and business with the same amount of traffic. For example, when a visitor fills a form, it means you have generated a lead and more conversions like these mean more business.
And this means: It's better to double your conversion rate than to double the marketing budget.
Let me give you an example:
Let's say you are spending $1,000 a month to bring 1,000 visitors to your website. With a conversion rate of 3%, 30 people out of those 1,000 become paying customers. If you want that number to be 60, you would either have to invest another $1,000 to get to it or work on doubling your conversion rate. With a good conversion rate, you would reach the same amount of paying customers for a smaller budget.
While doubling your conversion rate is not always possible, investing a bit more in getting the work done properly, avoiding the cheapest solutions, and taking great care when approaching web design are all very important factors to consider if you want to have a strong online presence and successful online
business model.
It is, therefore, very clear that conversion is an integral part of any online venture and in order to maximize its true potential, it should be approached with great care.
3. How to Create a Website
This part will be divided into several categories:
Web design and development
Digital marketing
Content creation (graphic, text, and video content)
SEO (search engine optimization)
Maintenance.
The sections below will explain these categories, not only in the sense of what they represent but also how they (could) affect your business and how they (could) improve it.
1. Web Design and Development
Web design and development include both the development and design of your business website. Let's explore both in detail:
Web Design
Website design refers to the design of the website as it is seen by the end-users. It includes website layout, color scheme, user experience, and several other aspects.
Since website design is visible to everyone, it has to be visually pleasing. It must adhere to your brand and must align with your business philosophy.
For example, if your logo has an orange color and you follow different shades of orange as your brand colors, you need to follow the same rule for web design. This is important to keep your business website unique.
Why is it important for your business?
Website design has a direct impact on user experience and conversion rate.
It helps website users navigate through the website, find what they're looking for, and finally convert. A well-designed website that helps visitors get what they want will have a high conversion rate. The majority of conversion rate improvement experiments are design-related such as changing the call to action button color or font size of the headline.
Dedicating a decent amount of time to create a good design for your website will go a long way in increasing the conversion rate and overall user experience.
Web Development
Web development refers to building, creating, and maintaining a website. It includes web design, web publishing, web programming, database management, hosting, and much more.
It is a broader term that covers everything related to website creation, management, and maintenance.
While the terms "web developer" and "web designer" are often used synonymously, they do not mean the same thing. Technically, a web designer only designs website interfaces using HTML (Hypertext Markup Language) and CSS (Cascading Style Sheets). A web developer may be involved in designing a website but may also write web scripts in languages such as PHP: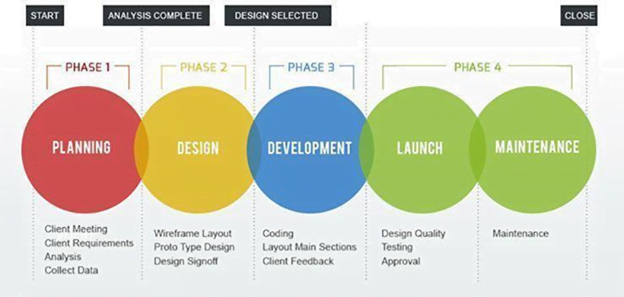 Additionally, a web developer may help maintain and update a database used by a dynamic website. Web development includes many types of web content creation. Some examples include hand-coding web pages in a text editor, building a website in a program like Dreamweaver, and updating a blog via a blogging platform.
In recent years, content management systems like WordPress, Drupal, and Joomla have become popular means of web development. While there are several methods of creating websites, there is often a tradeoff between simplicity and customization. Therefore, most large businesses do not use content management systems (CMS), but instead, have a dedicated web development team that designs and maintains the company's website(s).
Small organizations and individuals are more likely to choose a solution like WordPress that provides a basic website template (known as a theme) and simplified editing tools. WordPress, being a dominant and really useful CMS for any small business is covered separately.
Why is it important for your business?
Having a qualified web developer is essential for the successful development of your website, yet some of the work a developer does is not always apparent.
The list of things that directly influence the business of an SBO is way too long for this segment to cover, but I will name the two most important ones: Website responsiveness and website speed optimization.
A responsive website automatically changes to fit the device you're reading it on (such as desktop, tablet, mobile, etc.):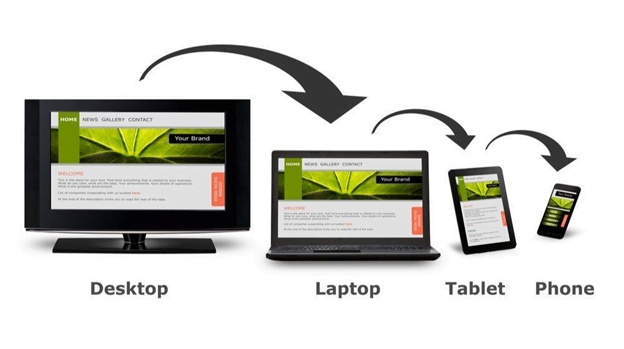 Typically, there have been four general screen sizes that responsive design has been aimed at: Widescreen desktop monitor, a smaller desktop (or laptop), a tablet, and a mobile phone. It is very important to have a responsive website considering the fact that 54.8% of the global internet traffic generated from mobile devices in 2021. Not having a responsive website means losing a lot of potential customers. An easy way to check the responsiveness of your website is to use this free tool. If it loads correctly on all the devices, your website is responsive.
Page speed optimization is the set of methods that improve your website loading speed. How quickly your website loads have a direct impact on user experience and conversion rate. An average person only waits for 3 seconds for your website to load. If it doesn't load in 3 seconds, you lose the visitor: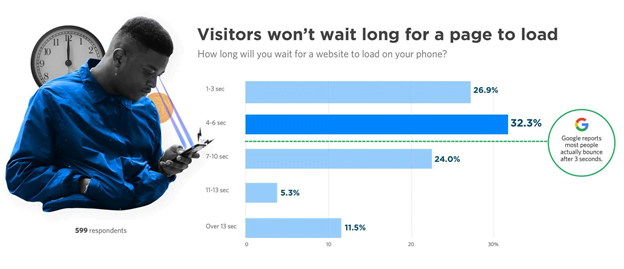 Page load speed ruins sales and conversions: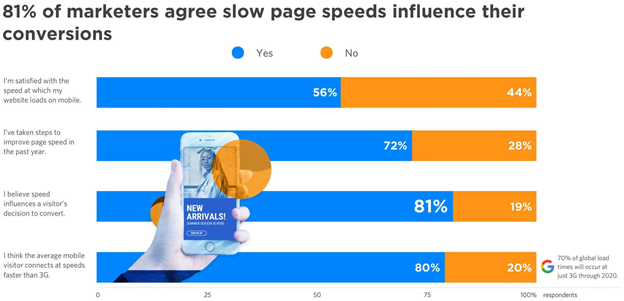 The load speed of your website is linked to its development. And if your website loads slowly, your web developer will be the most appropriate guy to fix it.
WordPress Development
WordPress is a free and open-source content management system (CMS) based on PHP and MySQL. It is used by 43.1% of all the websites in the world (as of 2021). It is the most used CMS in the world.
WordPress allows installation and switching amongst different themes. Themes allow users to change the look and functionality of a WordPress website without altering the core code or site content. Every WordPress website requires at least one theme to be installed and activated and every theme should be designed using WordPress standards with structured PHP, valid HTML, and CSS.
You can choose between free and premium WordPress themes. You can find free themes on the WordPress theme directory, and premium themes are available for purchase from marketplaces and individual WordPress developers. WordPress users can also create and develop their own custom themes.
Why is it important for your business?
Being the most popular and flexible CMS, WordPress presents a good website solution for small business owners. WordPress solutions are usually cheaper and take less time to develop while not losing any product quality in the process. Whatever the market demands are, WordPress is a way to go.
2. Digital Marketing
Digital marketing includes all the marketing actions that involve the internet. There are tons of digital marketing channels that you can use to reach and connect with your ideal customers over the internet such as search engines, social media, email, and your website: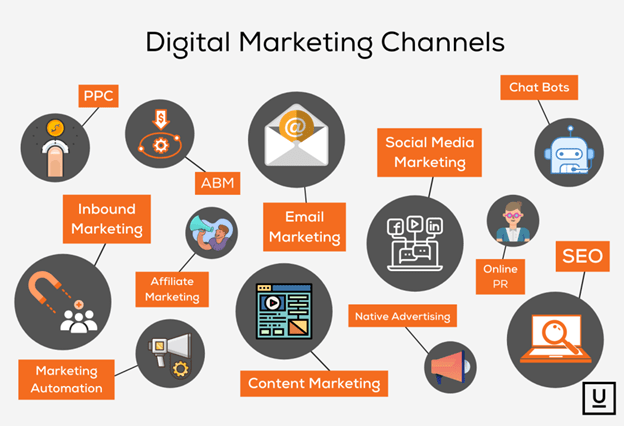 There are 4.88 billion global internet users accounting for 61.8% of the total population. This is the number one reason why investing in digital marketing is the best thing to do: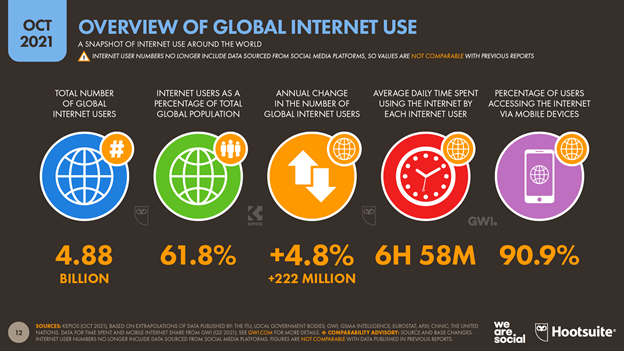 Marketing has always been about connecting with your audience in the right place and at the right time. Today, that means you need to meet them where they are spending time: on the internet.
You should join digital marketing — in other words, any form of marketing that exists online. In general, using digital marketing is several times cheaper, more effective, and time-saving than offline marketing. While the figures may vary depending on several factors, such as location, industry, and so on, here is a clear example of the effectiveness of online marketing.
A New York café owner, who would have to pay at least $5.5 for conventional means of advertising compared to $1 spent on digital advertising to achieve the same effect: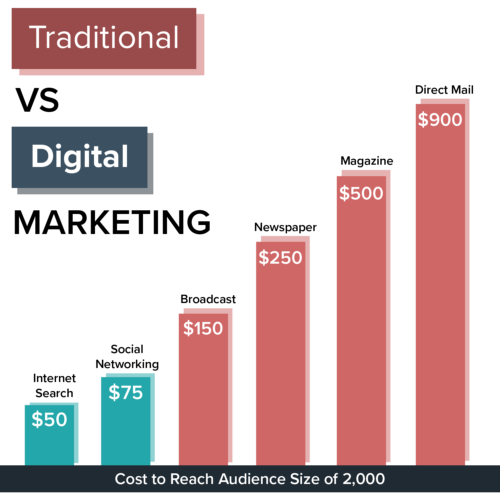 The three most important approaches to digital marketing that you can use for your business are Google Ads, social media marketing, and email marketing. It is worth noting that each of the three approaches listed below would require a lot of time to explain in full detail, so I will just try to cover the basics here and explain how you could use them to the full benefit of your business:
Google Ads
Google Ads is the largest ad network in the world with a market share of 29% of global digital ad spend. Google search engine is the most used search engine in the world with 92.6% of marketing share: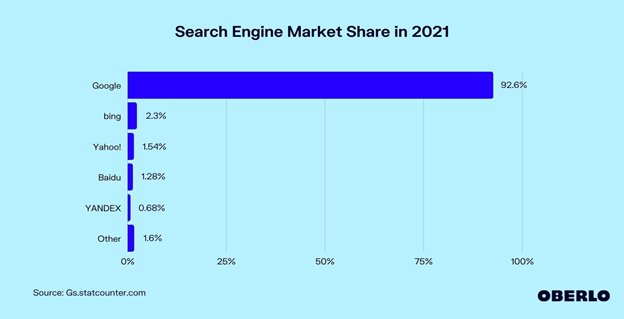 Google has the largest ad network with millions of partner websites, apps, and channels. You can run different types of ads on Google Ads including search ads, display ads, shopping ads, and others: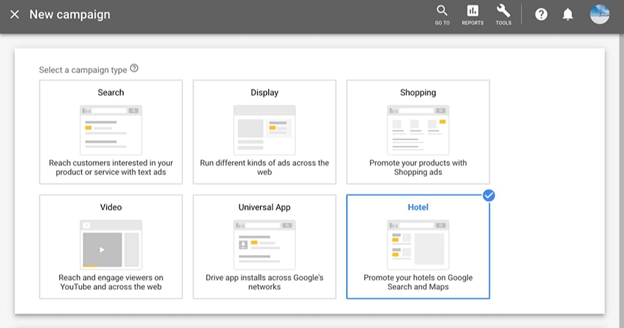 Google Ads is an extremely effective tool for businesses as it puts your ad in front of the right eyeballs at the right time and at the right place. Here is an example of a Google search ad: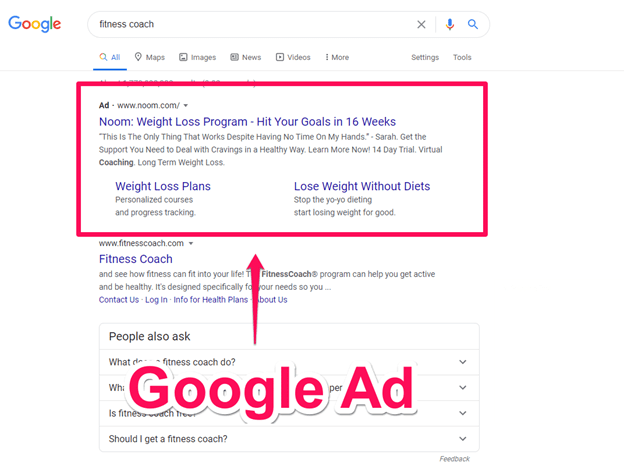 You can reach Google's top position with a search ad campaign. Your ad will be given preference over organic search results and this is the best way to drive traffic from search engines almost instantly.
And yes, Google Ads are effective. For every dollar spent on Google Ads, businesses make $2. This shows the effectiveness of Google Ads.
Why is it important for your business?
Google Ads is the best way to get your business quickly up and running online. It generates paid traffic, gives consistent results, and as such – a carefully planned Google Ads campaign almost certainly guarantees a favorable outcome for your business.
You can generate traffic to your website in a few minutes with a Google Ads campaign.
And this is the beauty of it.
"Carefully planned" are the two words which I have to emphasize, since without a robust Google Ads strategy, a good plan, and decent market research, an ads campaign can quickly become just a waste of money.
It is way too easy for anyone to set up a Google Ads campaign (thanks to Google's exceptionally easy user interface), but to generate great results, requires both expertise and a good plan. You need to constantly monitor ad performance, tweak your keywords, ads, and campaigns to get exceptional results.
Social Media Marketing
Social media marketing uses social media platforms such as Facebook and Twitter to promote a product or a service. It is a powerful way for businesses of all sizes to reach their target audience. Your customers are already interacting with brands through social media, and if you are not speaking directly to your audience through social platforms, you are missing out: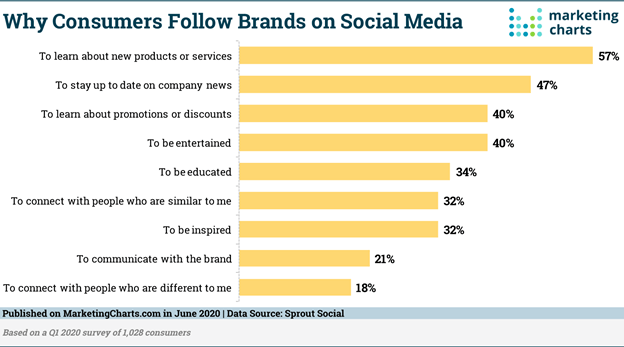 Just to give you an idea: It is estimated that there will be more than 4.41 billion social media users in the world by the end of 2025: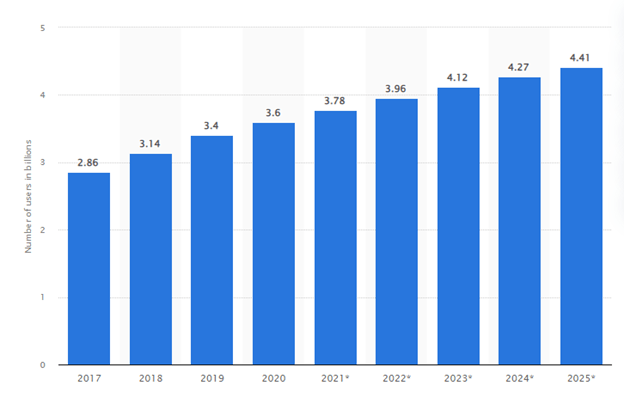 Using social media marketing connects you to a whole new world.
There are several ways you can use social media to generate leads and connect with your target audience:
Social media presence to stay connected with your audience
User-generated content
Social media ads
Contests and polls
Community building.
Why is it important for your business?
Social media marketing can help with a number of goals, such as:
Increasing website traffic
Generating leads
Increasing brand awareness
Creating a brand identity and positive brand association
Improving communication and interaction with the target audience.
The bigger and more engaged your audience is on social media networks, the easier it will be for you to achieve every other marketing goal on your list.
Email Marketing
Email marketing is a marketing technique used to connect and engage with your target audience and customers via email. It isn't just limited to promotional emails rather it includes all types of emails such as information emails, email courses, transactional emails, and so on:
Email marketing can be used to serve several purposes but mostly it is used to build and nurture relationships with your ideal customers and existing customers.
Here is a simple autoresponder that will give you a nice idea of how email marketing works:

The best thing about email marketing is that it works on complete autopilot. You just have to set autoresponders and workflow once, and it keeps working automatically.
Why is it important for your business?
Email marketing has the highest ROI among all digital marketing channels and this is a key reason why it should be a part of your marketing strategy: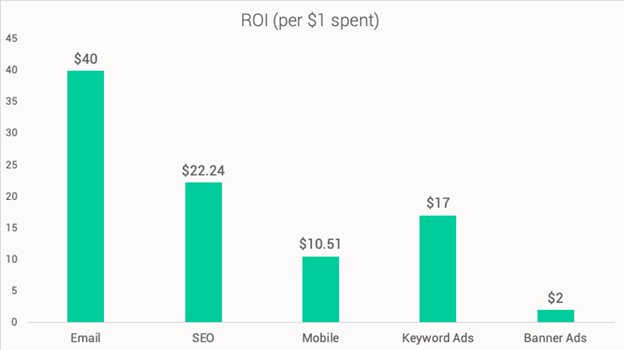 But there are other reasons too that make email marketing important for your business:
An exact return on investment can be tracked ("track to basket") and has proven to be high when done properly
Email marketing is significantly cheaper and faster than traditional mail, mainly because of the high cost and time required for a traditional mail campaign for producing the artwork, printing, addressing, and mailing
Your email marketing tool provides you with tons of data about customer behavior that can be used in different ways to improve targeting
It is the only marketing channel where you approach your subscribers with their consent. This makes email marketing highly effective since it doesn't appear bothersome. Your subscribers can check email whenever they're free.
3. Search Engine Optimization
Search engine optimization (SEO) refers to improving your website's visibility and ranking in search engine results pages (SERPs). It involves all the techniques that are geared towards increasing the traffic you receive from search engines (known as organic traffic):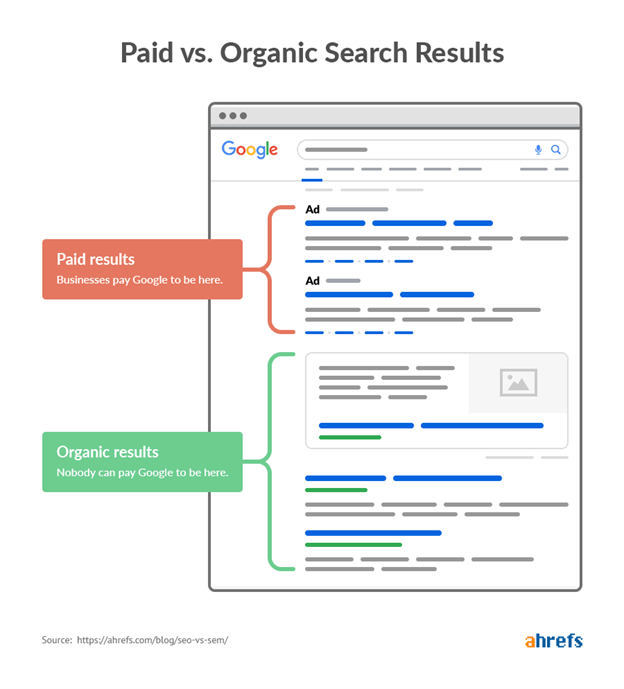 The earlier (or higher ranked on the search results page), and more frequently a website appears in the search results list, the more visitors it will receive from the search engine's users. These visitors can then be converted into customers.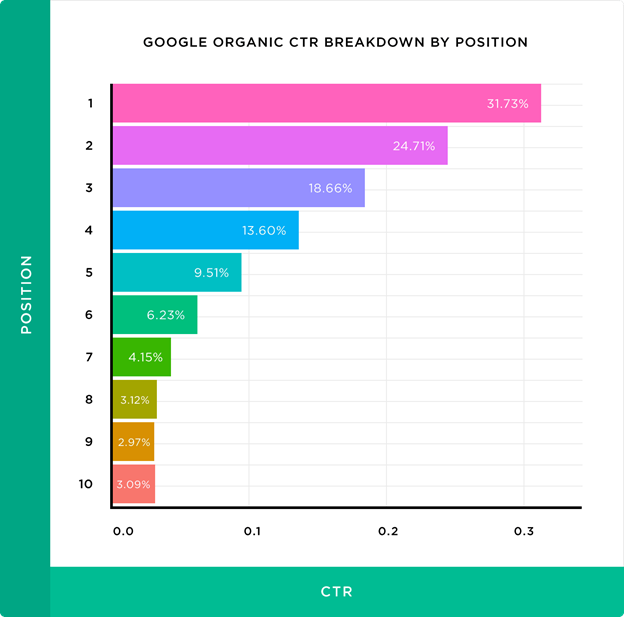 There are more than 200 different ranking factors that Google uses to rank websites in SERPs. But the number of backlinks (or referring domains) to your website is the most important ranking factor with the highest weightage: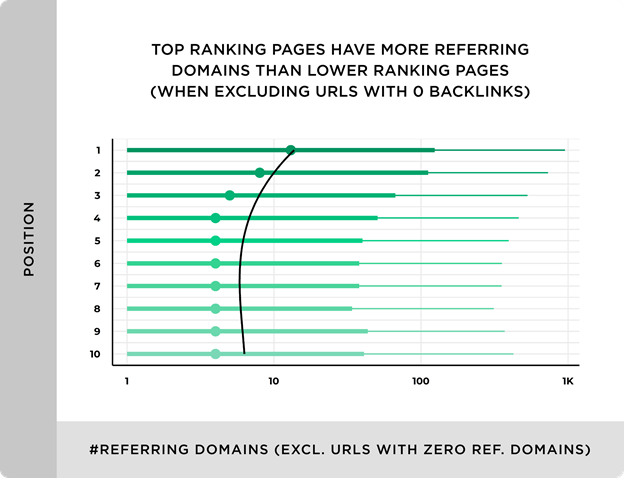 Optimizing your website involves editing its content, adding content, fixing HTML, and associated coding to increase its relevance to specific keywords and to remove barriers to the indexing activities of search engines.
Why is it important for your business?
SEO is a very important piece of the puzzle if you want to successfully do business online. It allows you to place your business in the best possible place on search engines (the most dominant one being Google) for relevant keywords so you could organically generate traffic to your website.
What do 'relevant keywords' mean?
Say you have a shoe store and you want to sell your shoes online. Relevant keywords would be all the search terms your potential customers would search for in Google when they want to buy shoes. For example, buy shoes online, oxford shoes, black shoes, and many others.
Placing yourself as an authority on Google for shoes-related keywords would mean you'd get a lot of incoming traffic from people interested in buying shoes.
The traffic you receive is much more qualified and more likely to convert because it has shown interest by searching for shoes on Google.
4. Content Creation
The design does not sell.
Content does.
Great content starts from defining your high-value customers and creating buyer personas. The key to a successful website is having clear, relevant, and keyword-rich content that delivers the right message with power and conviction. The content on your website should target your audience, engage them, and
persuade them to take action.
Content creation is a 6-step process: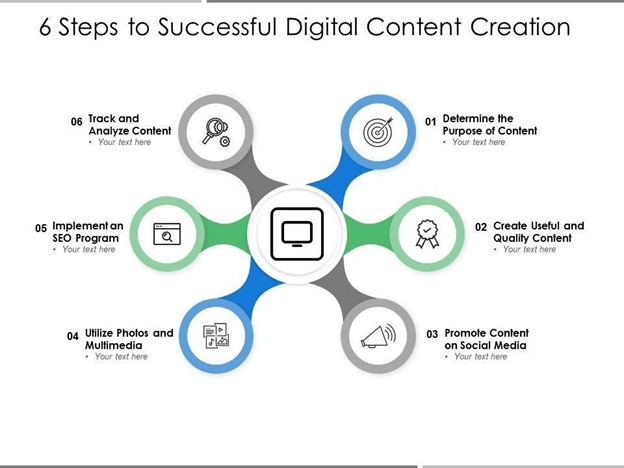 Content purpose
Content creation
Promotion
Visual content
Optimization
Analyze content.
You need to create different types of content that include blog posts, videos, images, graphics, infographics, eBooks, whitepapers, and more. The best approach is to align content with your funnel like this: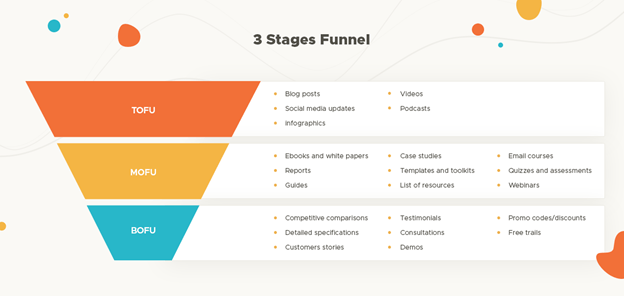 You need to understand the customer journey and create content for the entire customer journey. Customer needs and requirements change as they move from one stage to the next in their journey. For example, when they're new to your business, they need highly informative and authoritative content. And as they move ahead and are in the decision-making stage, you need to offer them content that's related to your products such as reviews, demos, discounts, product comparisons, etc.
Why is it important for your business?
Content is the most important thing on your website. It is used to communicate the message, drive leads, and generate sales. The number one reason to use content marketing is for brand awareness: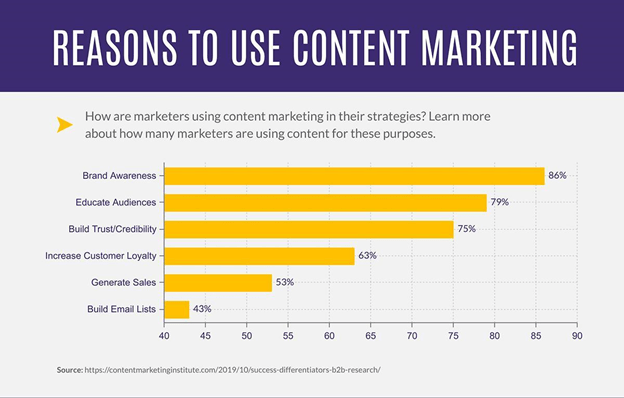 In the absence of content, your website won't rank in search engines. And if your content is low-quality, it might rank but it will have a poor conversion rate. So content isn't important but high quality content is important for your website. It must be well-researched, informative, optimized, formatted, and well-written. This is the type of content that will generate leads and sales.
5. Website Maintenance
Website maintenance is important for any business, regardless of size. A well-maintained website is critical for real-time service industries.
All businesses need regular website maintenance to attract and retain customers, maintain search engine rankings, and present new information, products, and services to their target audience. Website maintenance is also required to maintain your website so it functions properly.
How to do it?
Website maintenance is a technical task that should be carried by an expert web developer or a maintenance expert. Nevertheless, here is a website maintenance checklist that shows key tasks that you must perform regularly:
Review analytics
Check broken links and 404 errors
Update theme, plugins, and scripts
Scan for security
Check website speed and performance
Review buttons and links.
You can run your website through an SEO audit tool such as Ahrefs or Semrush to inspect its health. These tools will find errors and bugs in your website. You might need help from an expert to follow the guidelines and fix your website.
4. Pricing
This is perhaps the most crucial question.
How much does a decent website cost? And how much do you have to pay to have your website up and running?
Well, it depends.
Why?
Because not all websites are created equal.
The price is determined by several factors ranging from complexity to hosting servers to the type of domain you need.
For example, if you want to buy the domain name "groundtransportation.com" for your business, it will cost you a few hundred dollars or maybe more than that because this domain is already taken:

The broker service fee for this domain is $99.99 on GoDaddy. And this is the fee you'll pay to the broker for negotiating with the owner of the domain name to get this domain name for you. The owner might ask a ridiculous amount for selling his/her domain.
On the other hand, if you choose this domain: groundtransports.com. It will only cost you $0.01 for the first two years:

That's a huge difference, right?
This is why website development cost varies a lot and it primarily depends on your specific requirements.
What you need to do is set your website development budget. And then stick to it. Ask yourself: How much can you afford to invest in website development?
And then set a realistic budget.
You can have a website developed for $100, $1,000, $10,000, and $100,000+. You have all the options available to pick from. It all comes down to how much you can afford to pay based on what you want.
Just to give you an idea of how to set the budget for website development, here is an example: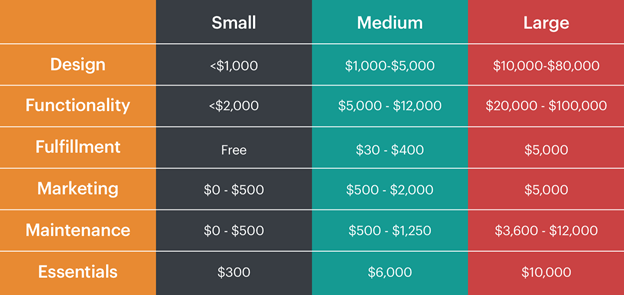 This is for ecommerce websites where you sell online from your website. Here is a more realistic overview of the types of costs associated with website development: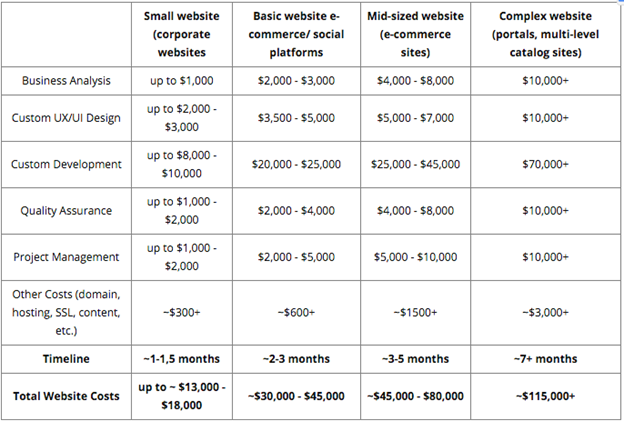 You might not need all these services. For example, business analysis isn't always needed since you already have a running business and you just need a website for it. So, you'll save on this cost.
Needless to say, it isn't easy to determine website development costs upfront. You need to set your budget and stick with it to avoid overspending.
Follow these tips and techniques when determining the price of website development:
Start with a small and basic website. You can always upgrade it later
Set clear objectives and goals for your business website and make sure your website meets those
Ask agencies and freelancers to send you a detailed breakdown of the cost so you can exclude expensive tasks such as custom development
No quote is final. There is always room for negotiation.
Final Thoughts
And there you have it.
I hope this book helped you navigate the somewhat difficult and strange waters of online presence for small businesses. While the book itself only scratches the surface for each of these subjects, I feel that it's detailed and accurate enough for you to get acquainted with its contents, purposes, and have gotten enough advice as to how to proceed to successfully bring your business into the modern age and your performance to the next level.