A lead magnet is defined as 'a valuable bribe that is offered to the visitors in exchange for their email address (and personal information)'.
A free report, free trial, an eBook, or something that visitors just cannot go without is a lead magnet. They have to enter their personal information to get access to the much needed valuable free stuff.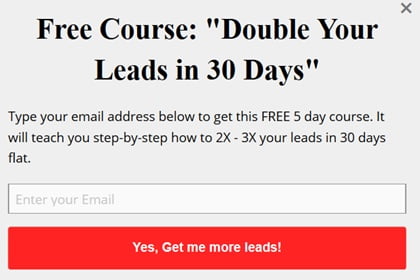 Lead magnets are primarily used to build email lists.
There are different types of lead magnets that can be used to build email lists. Choosing the most appropriate lead magnet for your sales funnel is crucial as everything else is linked to the lead magnet.
So what is the right type of lead magnet for your business?
1. EBook

An eBook is the most common and the most used type of lead magnet. Sending a valuable eBook to your target audience for free works like a charm.
You can use a PLR eBook or write a unique and valuable eBook from scratch. I do not prefer using anything PLR. Since the idea is to deliver value and convert subscribers into lifetime customers, you cannot do it with PLR products.
2. Free trial
Free trials for a limited time are best for generating sales. It is more than a lead magnet. You just don't build the email list but you generate sales.
If you are offering something of decent quality, most of the free trials will convert to sales.
For example, GetResponse, an autoresponder, offers a free trial of 30 days to everyone. If you offer a service, a software, an online course, or anything with recurring billing, offering a free trial for a few days or maybe for the first month will help grow subscribers.
3. Report
A free report in the form of instant download is another massively used type of lead magnet. You can craft a data-rich report from scratch or generate one from multiple sources.
Reports can take any form ranging from statistical to data-driven to informational. The best thing about a report lead magnet is that it has the potential to convert at an exceptional rate.
4. Resource list
How about preparing a list of tools and resources for your target audience that will help them in solving their biggest problem?
For instance, you can prepare a list of must-have android apps if your target audience consists of android-lover.
These resource list lead magnets can be created easily. All you have to do is prepare a list of much needed tools and resources. At the same time, these are hardest to convert as you are not adding real value. Your target audience can find the same list and the similar resources all over the internet.
The idea is to make your resource list valuable. Make it better than the ones available on the internet.
Maybe, you can explain how to use each of the resource or maybe you can do in-depth review of each resource.
Anything that helps the readers will work.
5. Case study
Case studies are practical in nature, and this is why people love them. A case study tells them what exactly they have to do and how they have to do it.
There is nothing better than a case study lead magnet for your target audience.
The only issue is that case studies aren't easy to create. You have to invest a whole lot of resources in creating a worth pursuing case study.
Once you have created a killer case study, converting leads and freebie-seekers into customers will become a piece of cake.
6. Checklist
Checklists are another affordable and easy-to-create lead magnets. Creating a checklist of things to-do and steps to follow to accomplish something is an easy job.
This type of lead magnet mostly works for beginners who need all the basic details to do something such as creating a WordPress blog.
7. Video course
Are you a product author? Do you sell an online course?
The best lead magnet for digital course authors is their course itself. You can offer a limited access to your latest course or you can give away your past courses for free as a lead magnet.
Giving away a complete course for free is a great idea. Even if you are not a product author, you can create a video course to use as a lead magnet. Step-by-step videos always attract people.
8. Worksheet
Worksheet lead magnets are not very common. This is the reason worksheets work. People love them for the fact that a worksheet makes their life easy in the true sense.
Creating a worksheet for your target audience needs ample resources. You have to hire a subject matter expert. Not everyone can create worksheets that will convert like crazy.
9. Cheat sheet
When it comes to helping someone, there is nothing better than a cheat sheet lead magnet. A cheat sheet is easy to create and is loved by people.
It is something that is sure to help every single subscriber.